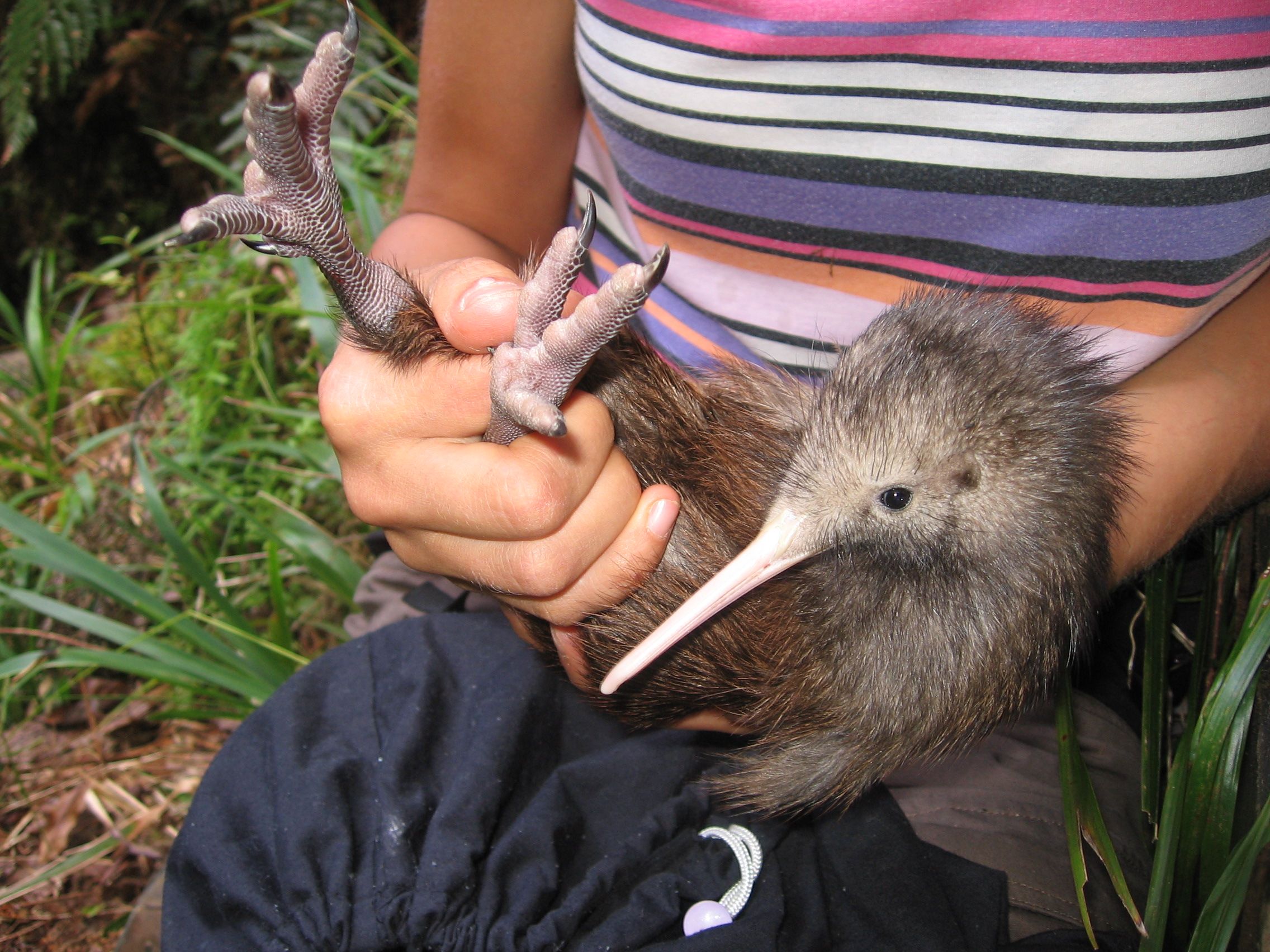 Kiwi Whakapapa Project
GFANZ has had the pleasure of being affiliated with this project. We have provided some technical support as well as some of the bioinformatics infrastructure for the analysis.


This photo is of a 7 to 14 day old kiwi chick. It is still small enough to be under constant threat from stoat predation. It was found with their dad. The dad got his blood sampled, but this chick was too small. -- Malin Undin, PhD Candidate
Photo Credit: Lesley Baigent
What is the Whakapapa of North Island brown kiwi project?
The Whakapapa of North Island brown kiwi project hatched in 2012 when Te Patukeha and Ngāti Kuta hapū from Rāwhiti objected to the Department of Conservation's (DOC) plans to start moving kiwi around within their Rohe. Specifically, the DOC plan was to move birds to, from, and among the islands in Ipipiri (Bay of Islands), since these birds were deemed likely to be suffering from inbreeding. The hapū were very concerned since they were never consulted during the development of this plan, and because advice delivered by Dr Isabel Castro indicated the possibility of spreading diseases or translocating unfit birds which could decimate kiwi populations. For these reasons, the hapū supported Dr Isabel Castro's recommendation to undertake a scientific investigation into the genetics and health of these kiwi. The concerns expressed by scientists and hapū led to the DOC plan for kiwi translocations being put on hold. From that moment, a close collaboration spearheaded by the hapū was initiated with Massey University researchers, and this has been ongoing. The work has involved training hapū members to become accredited kiwi handlers, recruiting two PhD students, and since 2019 finally collecting and analysing samples. A key part of the program has also been creating frequent opportunities for interactions between Mana tangata, researchers, landowners, and community conservation groups.
Why is the Whakapapa of North Island brown kiwi important?
This project sprung out of the direct concern for the kiwi in Ipipiri. However, translocation of birds to islands for purposes of conservation has been common in New Zealand for decades. Since kiwi are flightless, such island-birds have no opportunity for social or genetic exchange with birds elsewhere. This isolation has the potential to lead to inbreeding (i.e., mating between close relatives) and loss of genetic diversity. The pressing question is: what is the best way to manage this situation? Complicating the situation is that all kiwi in Aotearoa New Zealand are today faced with an environment that is drastically different from the past and still rapidly changing. To help keep pace with environmental changes, decision-making informed by genetic tools is crucial for kiwi.
Genetic studies have been conducted on kiwi since the late 1980s. This provides a foundation for future conservation policy development. However, the data currently available are still insufficient for this purpose. For example, no studies to date have analysed the genetic diversity among populations within North Island brown kiwi or provided evidence indicating the extent and consequences of inbreeding in isolated populations. Thus, current guidelines for conservation and translocations lack a robust scientific basis. To combat this, the Whakapapa of North Island brown kiwi project is working towards providing a more detailed understanding of kiwi diversity to help hapū and other decision-makers advance the goal of achieving diverse and successful kiwi populations for many, many generations to come. Somewhat ironically, our studies suggest that one of the best places to address questions about the importance and nature of kiwi diversity are the islands of Ipipiri where concerns about genetic diversity of kiwi were first raised.